Ciaphas Cain: Death or Glory Audiobook
Ciaphas Cain: Death or Glory is a science fiction and fantasy novel. It is the fourth chapter in Ciaphas Cain: Warhammer 40,000 novel series. It is written by Sandy Mitchell. This is the pseudonym of Alex Stewart, who is a British author. He has written a lot of excellent books and Cain's Last Stand is one of them. For the Emperor is another top one from the author.
The audio narration of this book is done by Stephen Perring, Joe Jameson, Penelope Rawlins, and Richard Reed. It was a flawless and solid performance throughout the book. This book holds the story of Cain alone with exception of Jurgen. But, he hardly counts. Cain was surrounded all around by enemies and was desperate for having a nice cup of Tanna tea. [Ciaphas Cain: Death or Glory Audiobook]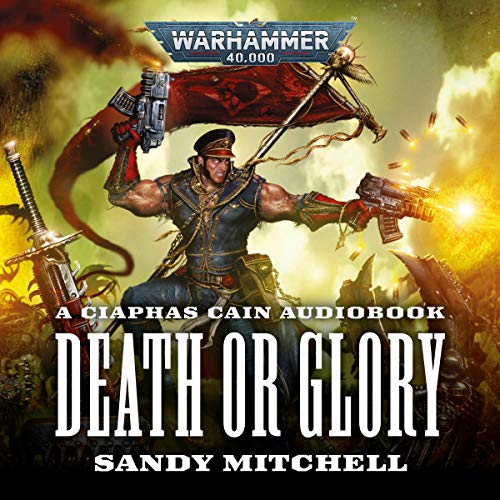 The story is of a Commissar Cain, a reluctant hero who was catapulted into glory. He managed to escape himself from a disastrous and ferocious space battle. Commissar crash-landed right behind the enemy lines along with his foul-smelling associate Jurgen. Even the sly Cain was in no position to avoid having any form of a straight fight this time. The only possible escape there was to round up with the few troops they could find and then bout their way back to safety. Unfortunately, countless barbaric alien orks were standing right in their way. Things were not looking easy and smooth at all. [Ciaphas Cain: Death or Glory Audiobook]
Get hold of your copy of this novel and find out what happened next. The latter half of the book would surely surprise and mesmerize you. Not just this book but the entire series will be a thrilling ride of adventure. It is dominated by the signature humor of Cains.
---
Top 15 most listened to audiobooks on the website
---
The most listened to authors